We are pleased to announce that Chadwick Lawrence's Acclaim Credit Management and Recovery, along with their distinguished partner, Dan Hirst, have both been nominated for the upcoming Yorkshire Legal Awards 2023, a testament to their fantastic work in the legal field.
The awards were launched all the way back in 2000 to recognise the work and contributions of firms and individuals in Yorkshire and the event has become a key date in our calendar! The event covers plenty of categories and always sells out.
Operating under the umbrella of the Chadwick Lawrence family, Acclaim has won the prestigious Debt Recovery Award. Acclaim previously won this award in 2020 and is thrilled to be nominated once again this year. Acclaim's very own Dan Hirst comments "To distinguish ourselves within Yorkshire's dynamic legal landscape is a remarkable accomplishment, and we extend our gratitude to the judges and organisers for this nomination."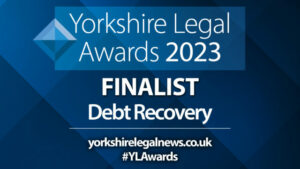 Turning our attention to the Partner of the Year award, Dan has also found himself nominated for that! His dedication to legal excellence and contributions to the success of both Acclaim and Chadwick Lawrence have been duly recognised. Dan's nomination serves as a testament to his expertise and unwavering commitment. In Dan's words, "I am honoured to be nominated for Partner of the Year at the Yorkshire Legal Awards. This recognition reflects my team as much as it does me. I am grateful for the opportunity to contribute to our client's successes and work with exceptional legal professionals. This nomination motivates me more than ever to keep striving for the highest standards we can achieve!"
The Yorkshire Legal Awards, scheduled for 5th October 2023, at New Dock Hall in Leeds, promises to be a great event celebrating the pinnacle of legal accomplishment within the region. The event will be black-tie with a welcoming reception, a three-course meal, and the highly anticipated awards ceremony. This year, the distinguished Helen Skelton will present the awards.
As the anticipation grows, we want to congratulate Acclaim Credit Management and Recovery and Dan Hirst for their well-deserved nominations. We can't wait for the ceremony!
For further details on the Yorkshire Legal Awards, please visit the link: https://www.yorkshirelegalnews.co.uk/yorkshire-legal-awards/